Luxury Home Fragrance With An Elegant Touch
Small Batch | Hand Made | Est 2017
Collapsible content
Click here to read our story

Hello, welcome to The Aromatary

We are Juda & Liam and we are the founders and owners of The Aromatary.

I, Juda, started The Aromatary from our student house in my first year of university in 2017.

The academic side of university was intense at times and being creative helped relieve that pressure. I decided I needed a hobby, a distraction which allowed be to be creative

I was just finishing up my final exams and had recently rediscovered a love of baking as a distraction from how lonely and disconnected I felt from my friends and family whilst at university.

However, baking is quite an expensive hobby and when you bake something you just have to eat all of it. This wasn't very healthy for me at all but it was time away from the negativity of social media and tv which had me feeling not great mentally.

I stopped baking and started searching for a new hobby which didn't break the bank and which wasn't unhealthy for me. 

After speaking with my mam over the phone, she reminded me that I have always had a wax burner going or a candle burning on an evening since I was around 14/15 years old.

We thought it was a good idea to give making wax melts a try.

I ordered a wax melt 'DIY' kit from a reputable supplier and the day it got delivered I made by first bubblegum wax melt, looking back it wasn't amazing but I was proud of it. 

From there I threw myself into researching, making and exploring the world of wax melts. I loved it! I loved falling down the rabbit hole of all the different combinations, the different legislation and the community made me so welcome.

I set up an Etsy page, it was very basic and I was new to the world of business. I sourced recycled/recyclable packaging with the iconic 'tart' wax melt shape. Sourced high quality and a diverse range of scents and decided on colours and branding. I bought a new printer, sticker paper and designed logos with scent names. Typed out all the CLP labels and got to work I was happy with the work I'd put in and imagined how far I could go but the only sales I had were from friends and family and I was very discouraged.

The Aromatary was put on the back burner.

- Fast forward to 2020 -

Now in my final year of my Masters, the world went into lockdown and everything moved online. University lectures were from home and I was furloughed from my retail job.

I thought this was an opportunity I couldn't pass up on. I invested more money and time into The Aromatary than ever before. I spent the first 7 months of the year testing my new product, wooden wick candles whilst rebranding and upgrading my wax melts.

Once again I loved the research and testing aspect;

What wax to use - Which wicks to try - Which size wicks - What kind of vessel - What size vessel - Clear glass or frosted - Colour the wax or not - Which fragrances? 

I wanted a lot of my own morals and values to bleed into The Aromatary, everything is cruelty free and as sustainable as possible whilst keeping the pricing realistic for a high quality, hand made product.

What you see on this website today is not just a candle or wax melt or diffuser.

Our products are the result of many years of dedication, hard work, long nights and early mornings, getting frustrated and nearly giving up but persevering by coming back and refusing to be defeated.

I started The Aromatary whilst I studied for my Masters in Chemistry

Now that I have graduated, I manage The Aromatary alongside a full time job as an analytical chemist.

It's very busy at times but I am so forever grateful for what I have managed to achieve, I wouldn't change it for the world. 


Warmest,

- Juda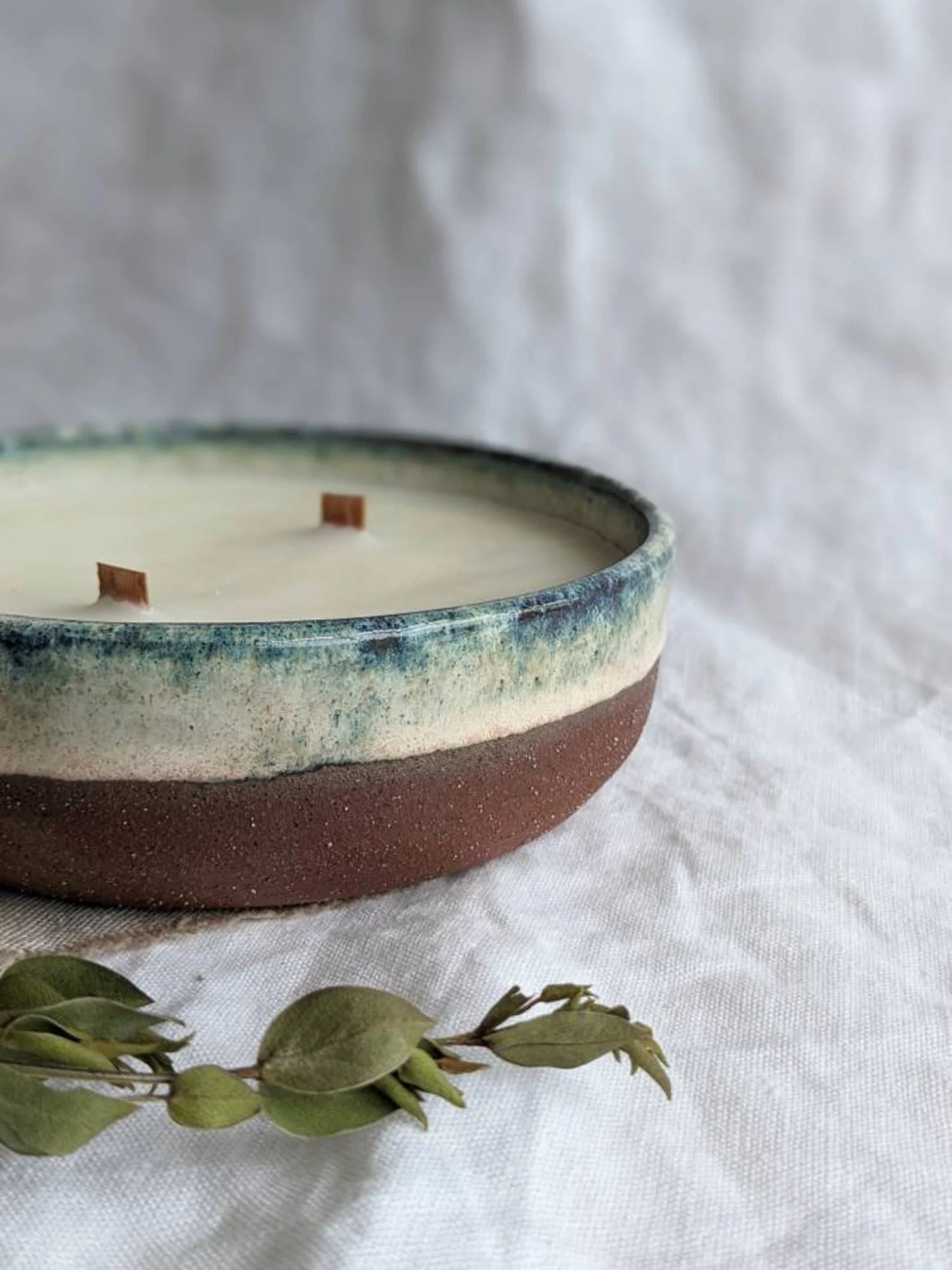 Waste Me Not Candles
A collaboration with Rebecca Ridley Ceramic
"'Waste me not' candles are one of the many ways I'm trying to reduce waste when making. They use perfectly imperfect pots either samples or pots with glaze imperfections, all perfectly safe to use for candles, but don't make the cut for normal sales." 
- Rebecca of Rebecca Ridley Ceramics

Re-usable vessel by Rebecca Ridley Ceramics, candles poured by us here at The Aromatary.
You can purchase these beautiful bespoke candles from Rebecca's Etsy page using the link below.

Waste Me Not candle vessels are not food safe. All packaging is recycled, recyclable, or biodegradable!
Waste Me Not Candles
Stockists & Wholesale
Stockist Map

Interested in stocking our products?
Get in touch via info@thearomatary.com
Wholesale Information

We love seeing our stock in beautiful stores which share our values and aesthetic. We strive to provide businesses with low MOQ and flexibility with our products such as potential label customisation among any other requests you may have.

Feel free to browse our digital catalog and download our order form using the link below. Contact us with any questions via the enquiry form below or by email at info@thearomatary.com.